Try some of our delicious recipes!
Paella
According to this History of Paella article, paella combines the Roman and Arabic cultures. Arab conquerors introduced rice in Valencia. The word "paella" may have stemmed from the Arabic word "baquia", which simply means "leftovers".
So, historically, paella was introduced as the delicious solution to leftovers. And depending on where you live, you would utilize ingredients available in that region. And that's why, it makes perfect sense that there are many variations of paella today!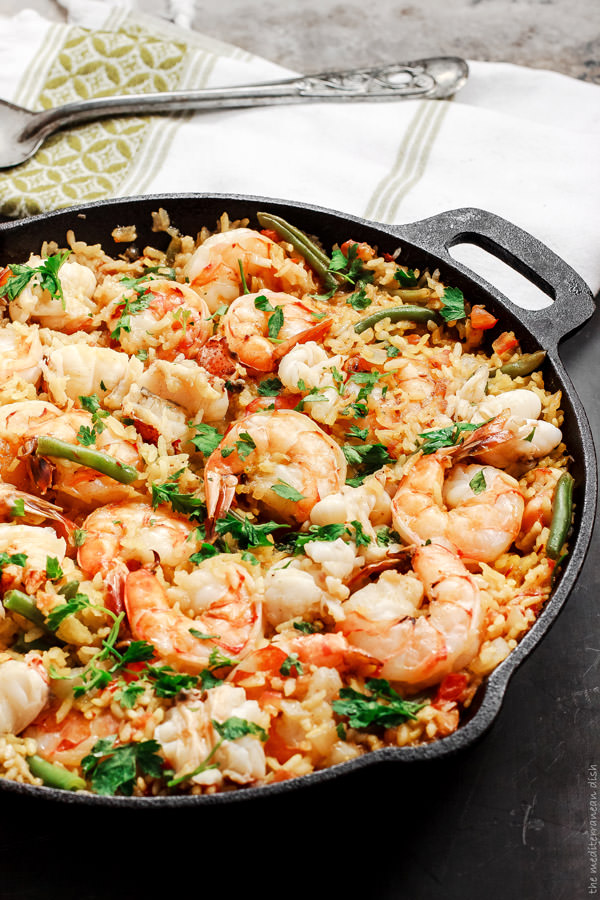 Ingredients
4 small lobster tails (6-12 oz each)
Water
3 tbsp Extra Virgin Olive Oil
1 large yellow onion, chopped
2 cups Spanish rice or short grain rice, soaked in water for 15 minutes and then drained
4 garlic cloves, chopped
2 large pinches of Spanish saffron threads soaked in 1/2 cup water
1 tsp Sweet Spanish paprika
1 tsp cayenne pepper
1/2 tsp pepper flakes
Salt
2 large Roma tomatoes, finely chopped
6 oz French green beans, trimmed
1 lb prawns or large shrimp or your choice, peeled and deveined
1/4 cup chopped fresh parsley
Instructions
In a large pot, bring 3 cups of water to a rolling boil. Add the lobster tails and let boil very briefly (1-2 minutes) until pink. Turn the heat off. Remove the lobster tails with a pair of tongs. Do not discard the lobster cooking water. When the lobster is cool enough to handle, remove the shell and cut into large chunks.
In a large deep pan or skillet, heat 3 tbsp. olive oil. Turn the heat to medium-high and add the chopped onions. Sauté the onions for 2 minutes then add the rice, and cook for 3 more minutes, stirring regularly. Now add the chopped garlic and the lobster cooking water. Stir in the saffron and its soaking liquid, paprika, cayenne pepper, pepper, and salt. Stir in the chopped tomatoes and green beans. Bring to a boil and let the liquid slightly reduce, then cover (with lid or tightly with foil) and cook on low heat for 20 minutes.
Uncover and spread the shrimp over the rice, pushing it into the rice slightly. Add a little water if needed. Cover and cook for another 10-15 minutes until the shrimp turns pink. Finally, add the cooked lobster chunks. When the lobster is warmed through, turn heat off. Garnish with parsley.
Serve the paella hot with your favorite white wine.
---
Baked Kingklip with Lemon Butter & Capers
Ingredients
1 Kingklip Fillets
4tbsn softened butter
2tbsn fish spice of your choice
2 lemons, halved
For the lemon-garlic butter:
1.5 cups butter
4 garlic cloves, crushed
juice of 2 lemons
2tbsn cream
freshly ground black pepper
3tbsn freshly chopped parsley and capers to serve
Instructions
Pre-heat the oven to 200°c.
Place the fish on an oiled roasting tray and rub/brush the softened butter all over it. Sprinkle with the fish spice and cover with foil.
Place in the oven and allow to bake/roast for 12-15 minutes and then remove the foil. Allow to bake/roast for another 5 minutes or until cooked throughout.
Meanwhile, melt the butter, garlic and lemon juice together in a small saucepan.
Add the cream and mix well (I use my handheld blender at this point but it's not essential).
Add parsley and pepper to taste.
Serve the fish with a generous spoonful of the lemon-garlic butter and a good sprinkling of capers.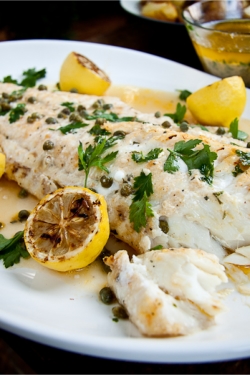 ---
Pan-fried Hake with Lemon and Herb Butter Sauce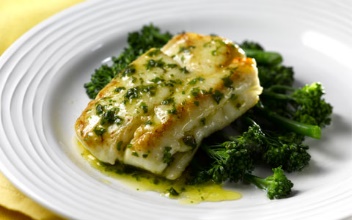 Ingredients
4 x 150g hake fillets, skin on and boned
1 tablesp. olive oil
Salt and freshly ground pepper
50g butter
½ lemon, pips removed
1 tablesp. chopped mixed herbs (parsley, chives and tarragon)
Instructions
Cooking time:10 minutes
Heat the olive oil in a large frying pan and add the seasoned hake fillets, skin side down. Cook for 1-2 minutes until the skin is just beginning to crisp, then add little knobs of butter to the pan around each hake fillet and cook for another minute until the skin is crisp.
Turn the hake fillets over and cook for another 3-4 minutes until cooked through. This will depend on the thickness of the fillets. Transfer to warmed plates while you make the sauce.
Add the rest of the butter to the frying pan and allow it to gently melt over a moderate heat. When it has melted, add a squeeze of lemon juice and the herbs, swirling to combine.
Season to taste.
Spoon this sauce over the hake fillets and serve with steamed broccoli and some sautéed new potatoes.
---
Monkfish in a Mild Thai Green Curry Sauce
Ingredients
Serves 4
700g monkfish, filleted, skinned and cut into cubes
1 tablesp. oil
75g Green Thai paste
1 teasp. root ginger, grated
4 scallions, thinly sliced
1 red pepper, sliced
400ml tin of coconut milk
Salt and freshly-ground black pepper
Small handful of fresh coriander and basil, chopped
Juice of half lime
Instructions
Add the oil to a large heavy based frying pan, and warm a little, then add the paste and cook for a minute.
Then stir in the ginger, scallions and peppers and coat in the paste.
Pour in the coconut milk, and boil for 2 minutes, stirring from time to time.
Season the fish and add to the mixture in the pan and gently simmer for 5 minutes until the fish is beginning to flake.
Add the chopped herbs and lime juice.
Serve immediately with rice or noodles.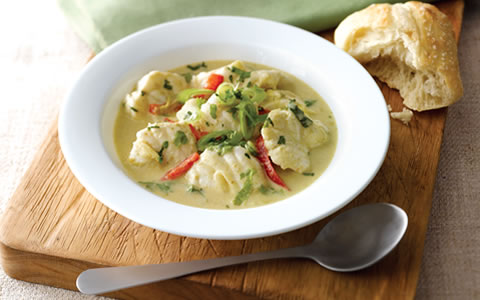 ---
Snoek Marinade for the Braai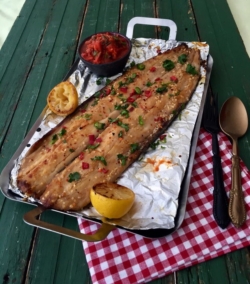 Ingredients
Koo apricot jam
Crushed garlic
1tbs olive oil
Soya sauce
Juice of 1 lemon
Tabasco
Salt and freshly-ground black pepper
Instructions
Take a third of a tin of Koo smooth apricot jam and mix in a couple of cloves of crushed garlic, a table spoon of best olive oil, a big splash of Kikoman soya sauce, and the juice of one lemon. Put a splash of Tabasco in and season with salt and pepper. Smear all over the fish and leave in the fridge until the fire is ready. Then braai until the sauce gets brown and sticky and bubbly. That is it. The best.